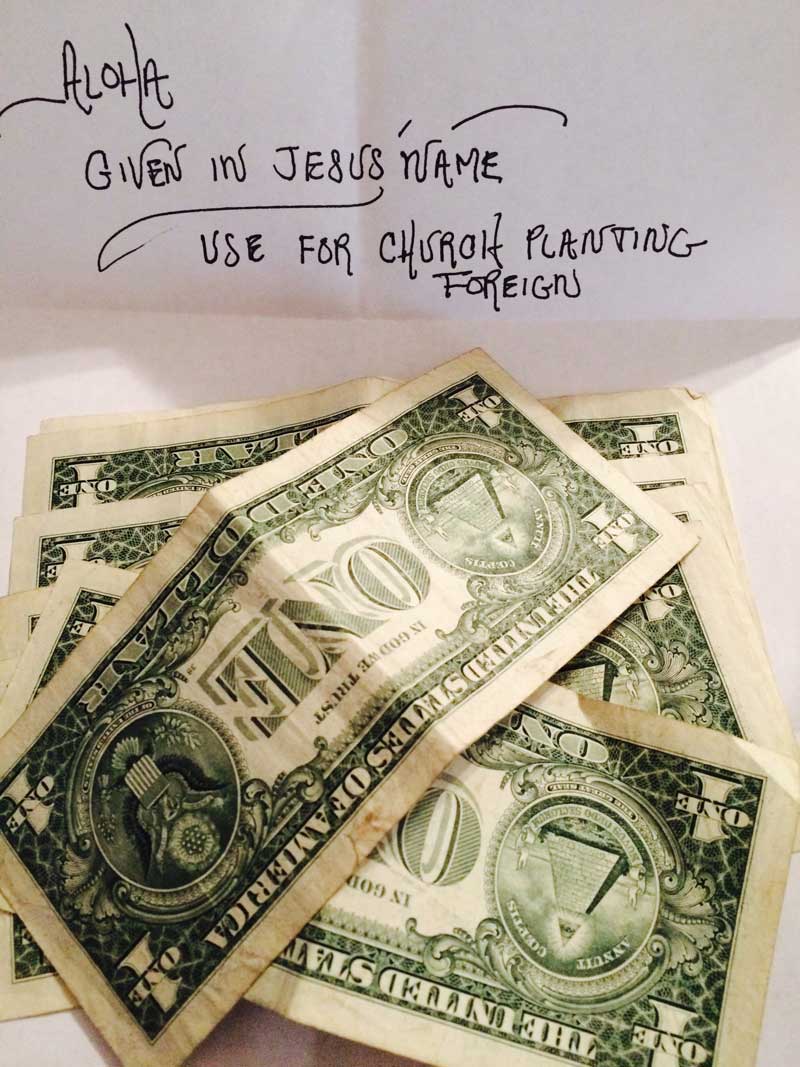 Do not despise these small beginnings, for the Lord rejoices to see the work begin……
Zechariah 4:10
The night before we left for Guinea Bissau we met with our partners to pray. We are so grateful to partner with Global Frontier Missions to see the Gospel spread through West Africa.
It was a beautiful time spent worshiping the One sending us to Guinea Bissau. At that meeting we were handed a handwritten envelope containing $7 USD and a small note. The note simply asked that the money be used to plant churches on foreign soil. No return address and no signature. The postmark was from Honolulu, HI.
What in the world. Who sent this? How did they know of GFM? How did it get there just before our departure? All the questions.
It was given to us as seed money to begin the work we have been called to in Guinea Bissau. Seven simple dollars. Seven. These seven bills encouraged us more than the sender could ever imagine.
In the Bible, the number 7 holds great significance. The number seven identifies something as being "finished" or "complete." The number 7 is often found in contexts involving completeness or divine perfection.
This simple gift was a reminder to us. That what He begins, He finishes. The work He has given us has already been completed on the cross. The steps He is asking us to walk were ordained before we took our first breaths.
We can be "confident of this, that He who began a good work in [us] will carry it on to completion until the day of Christ Jesus." Philippians 1:6
For the gift, for the reminder, for the work we have been called to, we are grateful.
At Hope Remembered we are a mission of small beginnings. Sometimes that is frustrating. But it is always beautiful. It requires faith. It requires us to admit that we alone can do nothing to change hearts, fill bellies, educate minds. The good news is we were never asked to do it alone!
Pslam 50:9-11 tells us that we are trusting in a God that does not need our resources, for everything is His, and that He "owns the cattle on a thousand hills."
May we be thankful in the smallest of beginnings for His glory alone.